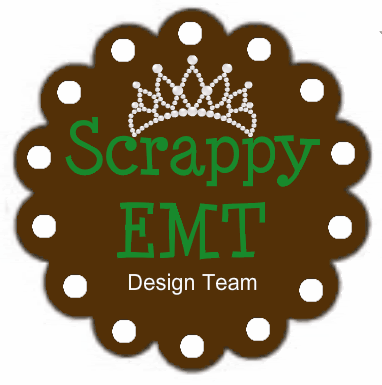 Hello all! You should have come from Marleeen's blog:
http://marleens-crafty-space.blogspot.com
If you haven't visited her blog please do!
Here is the line-up for the rest of the hop:
Marleeen Gallagher -

http://

marleens-crafty-space.b

logspot.com/
Christina Capps ~

http://

cema1cema.blogspot.com/
Dana Tarchala-

http://

danascraftycorner.blogspot.

com/
Nicolette Simpson-

www.beyondscrapin.blogspot

.com
Kimberly Pate ~

http://

scrappingrookie.blogspot.co

m/
Audrey Dickinson -

www.scrappyemt.blogspot.co

m
I am a new Design Team Member to Scrappy EMT! I'm very excited to be a member of this design team! I have so many crafty ideas at the moment! I just hope I don't run out of ideas!!
For today's project were were asked to use our favorite cartridge and to show off our own style. I'm not sure if I captured everything I love to do but I do like how my project turned out!
I love to scrapbook and have been scrapbooking for about 15 years. My pages have gotten better over the years! I look back now at old scrapbooks and think wow not sure If I would sticker it up as much now as I did then! I love to make gifts for friends and co-workers! I use my Cricut a lot, I also love paper, glitter, beads, flowers and chalks! I look for new ideas constantly!
I used Forever Young which is my favorite cartridge along with Gypsy Wanderings and my gypsy. I used some patterned paper from DCWV and Stampin Up! I also used grey thread and some grey/blue beads, and some sheer ribbon.
I cut my girl out of the Forever Young cartridge at 5". I welded my letters together before cutting them out on my gypsy. I really love this feature! They were cut a 2". I strung the beads on to the thread to make a necklace. I really like the glittter paper I used for the dress! I used the ribbon around her waist. I tried to keep the layout simple because I really don't want to take anything away from the pictures of my daughter in her dress!
I made this scrapbook page for my daughter who will be going to her Winter Formal next month.
Thanks for stopping by I hope you like my project!!
~Christina~
A picture of the girl close up
The finished layout!